The well-deserved reputation of the beaches in the Rías Bajas attract each summer tourists that know how to appreciate the fine sand and crystal-clear waters. Don't forget that the climate difference in the Rías Altas is quite noticeable, with a difference of up to 10 degrees in the same day on occasions. As well as the 3-km long sandy beach of Ladeira where the campsite is, there are beautiful beaches in the neighbouring areas at a short distance by car.
Beaches close to the Campsite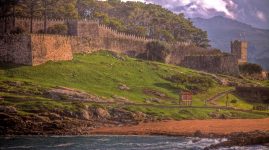 Baiona
The historic quarter of Baiona takes you to the sea with three beaches: Santa Marta, peaceful fishing beach, A Ribeira, at the foot of the walled-enclosure and protected, and A Cuncheira, open to the ocean. You can get to all of them on foot.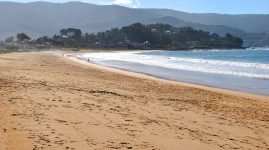 Nigrán — PLAYA AMÉRICA
From the campsite there is a pleasant footpath that takes you to this beach in a developed area.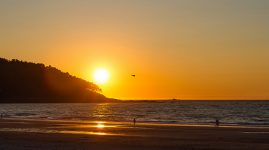 Nigrán — PATOS
If you cross through Panxón, you get to Patos beach, very popular with surfers due to the characteristics of the waves. White sand with rocky formations.
Vigo — SAMIL
Very close to Vigo, with white sand and fine grains. Protected although a little breezy with moderate waves. You can use the local bus network to get there. It is a very long strip of sand, delimited by a promenade.
One hour away by car. The protected conservation area of Cabo Home and its surroundings is located on the shore north of the Ría de Vigo, on the Morrazo peninsula. To get to this paradisical spot, cross the Rande bridge from Vigo. Walking it enables you to enjoy the pine groves that stretch to the white beaches, the dunes, the cliffs densely populated with marine birds, the historic site, the romantic lighthouse that evokes legends of seafarers and sunsets over the islands of Cíes, Ons and Onza.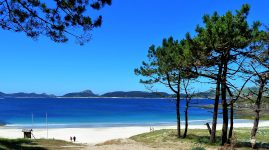 Cabo Home — MELIDE
Melide is a magnificent viewpoint for the Cíes islands. It is a quieter beach than the nearby Nerga and Barra beaches; located to the north of Cabo Home, very close to the Aldán estuary, right on the Sailing coast.
Cabo Home — NERGA
Nerga is framed by pine forests and eucalyptus trees zigzagged by diverse footpaths. The waves are moderate and the water is crystal clear.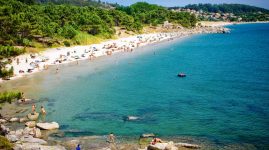 Cabo Home — BARRA
Barra is the nudist beach in the area and is set on a breathtakingly beautiful mobile ridge of sand fixed by its vegetation.